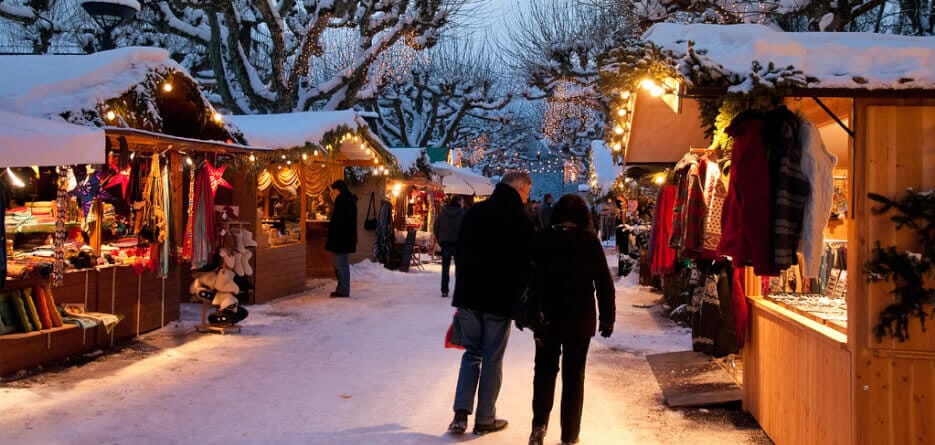 Best Christmas Markets In Europe
With the year slowly drawing to a close and the festive season creeping up on us, cities across the world are decking their halls and trimming their trees in preparation for one of the best-loved Christmas traditions there is – the Christmas market.
With so many stunning locations across the globe offering their take on the traditional Christmas market, it can be hard to choose where to head for a festive break and a chance to grab those extra special gifts. Some of the most popular locations are in central Europe, including the site of the first ever Christmas market – this means not only are they a great way to fit in a city break before the holidays, they're also relatively cheap and cheerful for travel, stays and shopping. We also offer our car rental services in every single one of these locations, giving us the ability to help make your travel even simpler. To make the hustle and bustle of travelling through the holidays just that little bit easier, we've put together a list of the top Christmas markets in Europe to help you decide where to visit next – all that's left for you to do is work on that Christmas list!
Vienna, Austria
Home of the first ever Christmas market held all the way back in 1289, Christmas in Vienna is the product of centuries of tradition – but that doesn't mean it's old fashioned. During the holiday season, Vienna is home to more than 20 different stalls offering everything from traditional homemade gifts and Christmas decorations, to fresh local foods and hot mulled wine to keep you cosy while you shop.
The Viennese Dream Christmas market is definitely the main attraction of the festive season – set against the backdrop of the beautiful City Hall and offering 'creative workshops' for children to make their own special gifts and post their wish lists, it's the perfect Christmas getaway for the family.
With flights from the UK starting at £80 and hotels in the area from £80 for a long weekend (based on two sharing) it is slightly on the higher end in terms of budget, but if you're looking to lose yourself in festive tradition then Vienna is definitely the spot for you.
The Viennese Dream Christmas market is open 10am-10pm, 15-26 December
Admission cost – FREE
Prague, Czech Republic
With nativity, choirs and angels galore, Prague's Christmas market in the Old Town district is the cornerstone of everything advent – if you're after winter wonderland, then look no further. Surrounded by a backdrop of Prague's beautiful gothic architecture, the rustic wooden huts of the Old Town Square market are the perfect place to pick up one of a kind gifts and experience some cosy Christmas magic at the same time. You'll be able to find traditional wooden toys, handmade jewellery and delicate Christmas decorations to name just a few, so you're guaranteed to find something for everyone. Mostly known for its twinkling lights and delicious food and drink, Prague's Old Town market also has a petting zoo for younger children, and daily tree-lighting ceremonies that are held every hour from 16:30.
Return flights from the UK to Prague in December start at around £60, with hostels near to the markets starting as low as £30 for a long weekend (based on 2 guests) or a cosier, quieter hotel room setting you back just £50 for the weekend, Prague is definitely a good location if you're looking for a classic Christmas trip with more money saved for the presents!
Prague's Christmas markets are open every day from 30 November – 06 January, with the lights switched on in Old Town Square every hour from 16:30 – 21:30
Admission cost – 25 CZK (approx. 0.85 GBP)
Berlin, Germany
German Christmas markets, or chriskindlmarkt, are the ones that we in the UK most associate with the festive season, as these magical markets are where ours take most of their inspiration from. Although they're not the origin of the Christmas market they are arguably the most famous, so it's a no brainer that they're one of the most popular locations for a festive break.
There are over 70 markets to choose from in Berlin alone, the largest of which is the WeihnachtsZauber at Gendarmenmarkt. Not only is it the perfect place to pick up creative gifts such as blown glass and origami; there is also an array of theatrical and dance performers to enjoy. Popular for its varied entertainment, beautiful backdrop and delicious food, this is the perfect place to visit if you want your experience to be something a little out of the ordinary.
At this time of the year Berlin is fairly middle range in terms of cost – a return flight from the UK to Berlin will set you back around £75. however the accommodation is a little on the pricier side, with hostels from around £50 and hotels from £90 for 3 nights.
The WeihnachtsZauber Christmas Market is open 11am – 10pm daily, 25 November – 31 December (closed at 6pm on Christmas Eve, and 1am on New Year's Eve)
Admission cost – 1 EUR
Gdasnk, Poland
If you're looking for some Christmas market magic on a tighter budget, then Gdansk's picturesque market in Old Town is the perfect festive getaway that doesn't break the bank.
This traditional attraction has everything you could want in a Christmas market, from cosy handmade woollen scarves and gloves to sledding competitions and a Christmas lights ceremony from Santa himself. The market also features their traditional Christmas fair, which boasts new attractions every year – this year visitors can enjoy a 2-level carousel and food court with traditional mulled wine, hot cider and delicious Polish food.
As well as visits from Santa and his elves for younger visitors, you can also expect light shows and carol performances to entertain you while you take in the sights, along with an ice skating rink within the market itself – what better way to enjoy the twinkling lights and festive spirit?
This is definitely the cheapest option for those looking to travel on a budget – flights from the UK are just £35, with hostels as cheap as £35 for 3 nights and hotels from just £50 GBP.
The Christmas Market and Fair are open 11am-7pm daily, 01 – 23rd December
Admission cost – FREE
Copenhagen, Denmark
Home of hygge and famous for its dedication to all things calming and comfy, Denmark is the perfect place to visit for a cozy Christmas break. Copenhagen certainly seems like the city with everything to offer over the holiday season – from a festive theme park at Tivoli Garden's Christmas market, to a twinkling kayak parade, you'll never be short of new experiences in this city that really does take Christmas to the next level.
Copenhagen was also home to storyteller Hans Christian Anderson – and of course, there is a Christmas market dedicated entirely to bringing his fairy tales to life. With a unique theme to each stall named after a classic fairytale, this old fashioned market is a magical experience that's not to be missed.
If you'd prefer a more traditional market with a cosy Copenhagen backdrop, head over to Nyhavn's Christmas market; situated right by the harbour it's the perfect place to lose yourself in the city, with its cobbled streets and some of the oldest architecture in Copenhagen.
It's no surprise that with its wealth of tradition and extensive list of must-see experiences, Copenhagen is one of the most expensive places to visit at this time of year. Flights start from around £55, however accomodation is on the pricier side, with hostels upwards of £100 and hotels from £160 for a long weekend – however if you're looking for rich tradition and the cosiest of Christmases, Copenhagen is definitely the city for you.
Tivoli Gardens Christmas Market is open now – 05 January, from 11:00-23:00 Sun-Thurs, and 11:00-midnight Fri-Sat
Admission cost – 110 DKK (approx. 12.60 GBP)
Manchester, UK
Looking for something a little closer to home? Here in the UK we have a long list of great Christmas markets, but none quite as impressive as Manchester.
Voted the best in the UK, Manchester's award-winning Christmas markets are spread across the city with over 300 stalls to tempt you into the festive spirit. The market is host to a range of suppliers, both local businesses and those from across Europe, so there's certainly no shortage of stocking fillers to be found. Manchester's Christmas markets are also famous for their food – with everything from a traditional Bratwurst to more exotic dishes like fresh paella and chorizo rolls from Little Spain and a range of vegetarian options, it's festive street food at its best.
Albert Square is always the main attraction, with stalls in other various locations across the city. Cathedral Gardens is home to a family-friendly activities hub – this features an ice rink, and the stunning Ice Village with ice sculptures and an ice slide for children – but Santa's grotto is guaranteed to be the main attraction. This year, Manchester's markets will also be home to a Tiki Ice Bar serving delicious cocktails –perfect for those who aren't too keen on the traditional mulled wine, but still fancy a festive tipple.
If you're based in the UK, Manchester is easy to reach from almost anywhere, and transport is relatively cheap. Hotels in the centre start from £85 for 3 nights, so you can stay close to the festivities without breaking the bank.
Manchester Christmas Markets are open now – 21/22 December, 10:00 – 21:00
Admission cost – FREE
So if you're looking a quick festive getaway this year, there's no shortage of stunning Christmas markets across Europe to get you into the yuletide spirit – whether it's picking up last minute gifts or losing yourself in the hustle and bustle of a sparkling city, our top holiday markets are guaranteed to be exactly what you're looking for.
If you're heading away and looking to make your trip that little bit easier in the hectic run up to Christmas, why not treat yourself to a hire car to make exploring a new city simpler? Here are Indigo we offer rental services in all of these locations and many more – get in touch with our team to find out more about Christmas car hire.