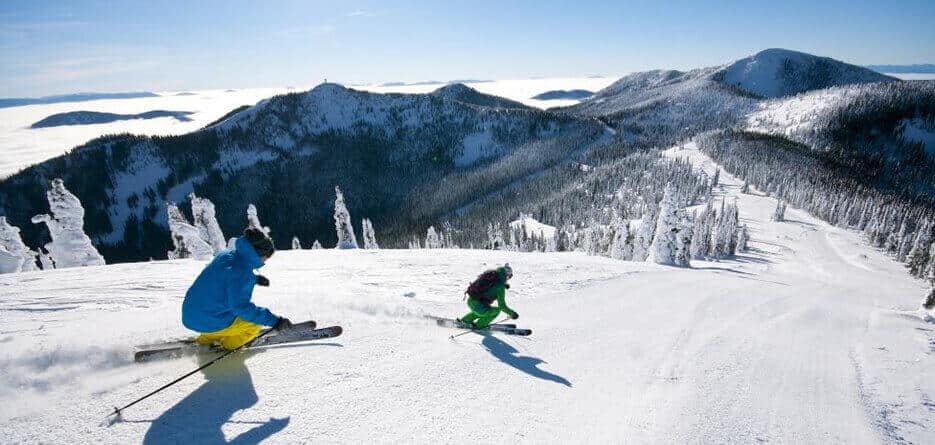 Ski Season
It is getting close to the time of year where it's time to pack your bags and get wrapped up to enjoy a holiday of skiing. I have previously written a blog on the top 5 ski location in Europe, but I felt USA and Canada have so many amazing ski resorts they deserved their own blog. With that being said, here are my top 5 ski locations in USA & Canada.
Telluride, Colorado
Telluride has a beautiful setting, and with 170 inches of snow mixed with 240 says of sun every year, it makes it ideal for skiing. The skiing facilities live up to the location, with many lifts that take you to various slopes, including the longest, Galloping Goose, which consists of 4.6 miles of terrain to ski down. If you are feeling adventurous and want to push yourself why not try out heli-skiing, where a helicopter will take you to places that the lifts can't reach. Alternatively, you can try something brand new with the kids, Snowbiking is available here.
How to get to Telluride, Colorado
There are several airports at different distances away. For the majority you are looking at between 1 and 3 hours travel at the other side before you reach the mountain village. One of the best ways to complete this journey is by hiring a car. We offer ski car hire at a lot of airports; this means you will have everything you need to keep you safe when driving in the snow. Please check out the airports below to find out which suits your travel needs best.
Montrose-Telluride Regional Airport (MTJ) – 75 minutes journey
Telluride Regional Airport (TEX) – 15 minutes journey
Grand Junction Regional Airport (GJT) – 2 1/2 hours journey
Durango-La Plata Regional Airport (DRO) – 2 1/2 hours journey
Lake Louise Mountain, Alberta
Lake Louise Mountain is a ski resort in the Canadian Province of Alberta. The resort itself lies in Banff National Park which has been accredited as a UNESCO World Heritage Site, which already makes this a great location to ski. With over 4,200 acres that spread across 4 different mountain faces each having runs for beginner, intermediate and experts, there will be certainly be something for you. The resort has over 140 runs in total with the longest one lasting for five miles, so you can take in the natural beauty that surrounds you as you rush down the mountainside.
How to get to Lake Louise Mountain, Alberta
With only 1 obvious airport to fly to, the choice is easy. There is a 1 hour 30-minute journey once you land which takes you along scenic roads. The best way to take in all the scenery and stop off for pictures when you want is to travel independently with your own car. We can supply you with car hire, just get in contact with our team and we will help you find the best offer for your needs.
Calgary International Airport (YYC) – 1 ½ hours journey
Whitefish Mountain Resort, Montana
Whitefish Mountain Resort is in the Western state of Montana. This resort has runs that start from the top of mountains in which you can enjoy a 365-degree views including the Glacier National Park. The area is full of welcoming locals and in the Winter, you can easily grab yourself a bargain on your hotel. Across the 105 trails that are serviced by 11 lifts, you will find a lot of crowd-free space to ski as you wish on the runs. If you go at the right time of year you can enjoy night skiing where you can take to the slopes at night and ski under the lights.
How to get to Whitefish Mountain Resort, Montana
There are a couple of airports in the nearby area, with one been significantly closer. Depending on where you are flying from, one may be easier to fly to than the other. Whichever you decide to fly to, it might be a good idea to hire a car. This way you can get to your accommodation at your own pace and have the freedom to explore the surrounding areas while you are there.
Missoula International Airport (MSO) – 2 ½ hours journey
Glacier Park International Airport (FCA) – 30-minute journey
Whistler Blackcomb, British Columbia
Whistler Blackcomb is in the Westernmost Canadian Province, British Columbia. With over 8,000 acres of terrain, including 240 marked runs, 16 alpine bowls, 3 glaciers, that can be reached by 36 lifts. In fact, there is so many runs you can ski for a full week without touching the same run twice. Better still, you can ski here year-round meaning you can even ski in June and July. There is a good mix of runs ranging from complete newbie to expert, meaning whatever your skill level there is something for you. After a long day skiing, there is many après-ski options including great bars and excellent restaurants.
How to get to Whistler Blackcomb, British Columbia
There are 3 options, with 1 of the options been a lot further away and including a border crossing. However, it is up to you to decide what will suit your holiday the best. Once you are at any of the airports, you will need a method of transportation to get to Whistler itself. There are some shuttles, but if you want to be independent and have the freedom to stop off where you like, you can hire a car. We offer ski car hire at many airport locations, this includes snow chains, ski racks and GPS to help you find your way. If you are interested in hiring a car for your skiing holiday, please get in touch with our team.
Vancouver International Airport (YVR) – 2 hours journey
Bellingham International Airport (BLI) – 2 ½ hours journey
Seattle-Tacoma International Airport (SEA) – 4 hours journey
Big White, British Columbia
Another ski resort found in the Canadian Province of British Columbia. This resort is the largest ski-in/ski-out village meaning you can set off and return to the village, all without taking off your skis. The area is well known for powder skiing and with 2,765 acres of ski area there is lots to practice on. Due to its location and the amount of snow that falls there is a lot of snow for most of the year. The resort also boasts night skiing facilities and with over 83 acres of snow under the lights, it is Western Canada's largest night skiing resort. Aside from the slopes, there is a host of activities for the kids and adults too so you will never be short of stuff to do.
How to get to Big White, British Columbia
There are only 2 airports nearby the Big White resort, with one been a lot closer. If you are travelling from Europe, the chances are you will need to get a connecting flight. Once you land at the airport of your choice, you will need a method of transportation. You can either, use the shuttle from Kelowna Airport or hire a car. If you wish to hire a car, please contact our team to discuss your travel arrangements in order to let us secure the best deal for you.
Kelowna International Airport (YLW) – 1 hour journey
Kamloops Airport (YKA) – 3 hours journey
If you decide to visit any of these resorts or anywhere else for that matter, we have your car hire covered. We offer ski car hire at various locations across the USA and Canada, we can provide car hire with the following…
– 4×4's
– Winter Tyres
– Ski Rack
– GPS
– Snow Chains
Unfortunately, not everything listed above is available at every location. We recommend that you call or email us prior to making your booking, this allows us to find you the best deal for what you need.