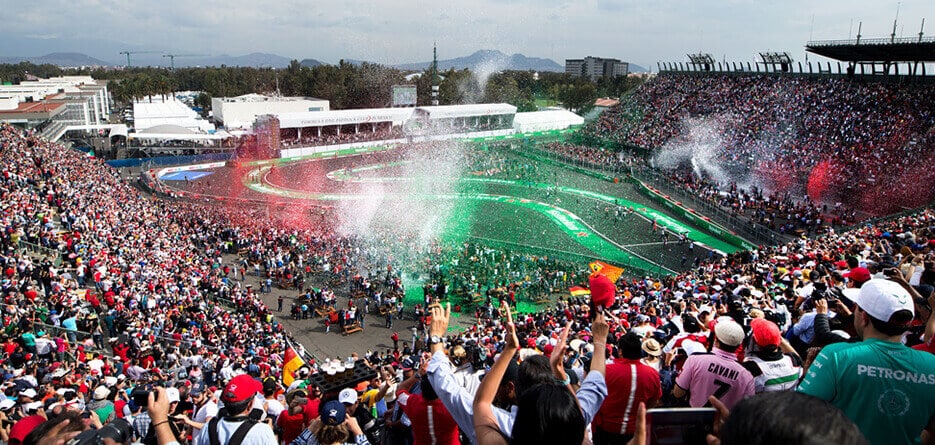 At the end of October Mexico invites Formula 1 back for its annual fix of Grand Prix action, hosted at the Autódromo Hermanos Rodríguez. The Mexican GP is the 18th track on the F1 calendar out of 21 in total. With it been so late in the season drivers are pushing harder than ever to try grab some extra points before the season ends. The track is located 2,240 meters above sea level making it the highest track on the calendar, nearly 3 times higher than any other track! No driver has ever won more than twice at this track, but with Max Verstappen on form this season could he be the first to pick up his 3rd victory here?
Closest Airport To Autódromo Hermanos Rodríguez
Mexico City international Airport (MEX) – Located less than 5km away from the track and hosts flights to and from most European countries including England, France & Spain. Mexico City Airport is the only feasible choice, with it being so close to the track and the only airport nearby that flies to and from European countries.
Travelling To & From The Track
Metro
You can get on the Metro at the airport that takes you to Downtown for just £0.20 for a one-way ticket. Once you arrive you can then get on the Metro again which will take you to the track. There are 3 stations that are located nearby to different areas of the track, the stations are as follows:
Velódromo – for Grada 15 Foro Sol Norte (Brown Zone) & Grada 14 Foro Sol Sur (Grey Zone)
Cuidad Deportiva – for the Main Grandstand (Green Zone)
Puebla – for Grada 3,4,5,6 (Blue Zone) and Grada 9-11 (Yellow Zone)
When leaving the circuit make sure you have already purchased your return ticket to avoid queues at the ticket machine. Also, it is recommended to take the Metro for one stop in the opposite direction then double back on yourself to miss the crowds.
What To Do Near Mexico City
If you are travelling from Europe the chances are that you are not going to fly over 12 hours and only stay for the weekend. With it been so far it makes sense to spend a week there and make a holiday of it. The city itself is very busy, however there are loads of great places to visit that are just a short drive away. Here are just a few ideas of places to visit while you are there.
Cholula, Puebla
One of the longer journeys, taking just under 2 hours to drive to, however, Cholula is worth the journey. This peaceful town has colourful architecture scattered across it, with over 40 churches. The city is Surrounded by breathtaking views of mountains and even has its own pyramid, Pyramid Tepanapa.
Teotihuacán, State of Mexico
Arguably one of the best day trips to take from Mexico City and it is less than 1 hour away. This Mesoamerican settlement contains pyramids and ruins that will blow you away. Two of the pyramids, Pyramid of the Sun & of the Moon can both be climbed and when you reach the top you are rewarded with a full overview of the UNESCO World Heritage archaeological site.
Toluca, State of Mexico
Again, less than a 1-hour drive is Toluca de Lerdo, rich with history and art the city has lots to see. One of the most impressive attractions is Cosmovitral Botanical Garden which is surrounded by stained glass murals. The Museo de Bellas Artes and Centro Cultural Mexiquense are 2 of the most popular museums in the area, so if you love history and culture make sure to give them a visit. Toluca is also known as the hub of Mexico for producing chorizo, so make sure you try some while you're there.
If you do need car hire while you are in Mexico City, we offer car hire with in terminal collection at the airport. If you are interested in booking car hire at Mexico City Airport or any other part of Mexico, please contact us via call, email or by using the live chat function.
Matt is new to us here at Indigo and keen to learn more about the industry as he studies for a digital marketing qualification.