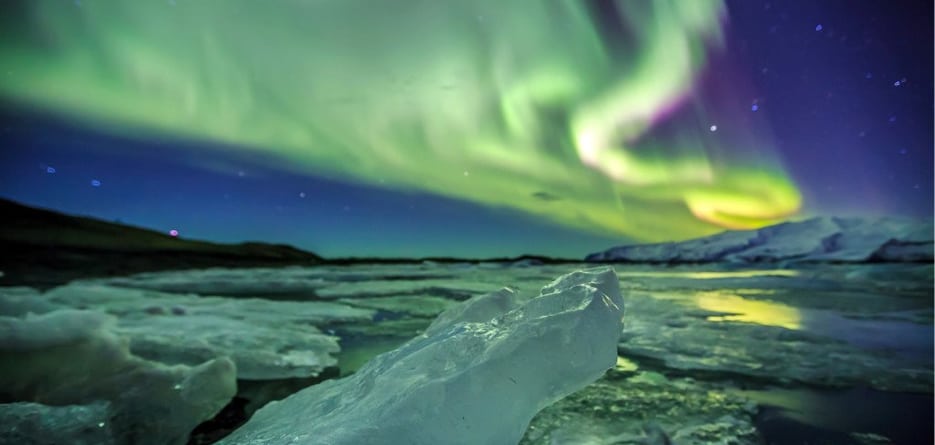 Iceland is billed as the 'land of fire and ice' and for good reason. Even as recently as March 2021 there was a minor volcanic eruption at Mount Fagradalsfjall in the Geldingadalur valley. But this did not affect air traffic as there was a lava leak rather than spurting ashes into the sky. It is an hour's car drive from Reykjavík and Keflavík International Airport for which be sure to book Indigo, before you go, for a car to go! Then it is a three to four hour return hike or there is even a helicopter tour.
To learn about volcanoes in theory rather than in practice there is The Volcano House in Reykjavík, a museum with all you need to know about the geology involved and volcanic rocks to see too. Another similar museum can be found in The Eldheimar Volcano Museum in Heimaey Vestmannaeyjar, or the Westman Islands which focuses on the 1973 eruption. Or there is The Lava Centre in Hvolsvöllur with an onsite Katla restaurant.
A real blast from the prehistoric past is to be found in Snæfellsjökull National Park in West Iceland. The setting for Jules Verne's Journey To The Centre Of The Earth novel you can explore the black pebbles of Djúpalónssandur beach; tour the Lava Tunnel of the Raufarhólshellir lava cave; or near Reykjavík take the Inside The Volcano tour at Thrihnukagigur.
Formed some 2,500 years ago is the stunning Hverfell volcanic crater in North Iceland's Lake Mývatn area. And nearby is the Krafla caldera with rocks still hot from the Krafla Fires and the site of some 29 recorded eruptions. So whether it be hot rocks, molten lava or prehistoric scenery you want to see Iceland has it all.
The Golden Circle
Then you may want to see a geezer about visiting a geyser on the Golden Circle tour! The 140-mile tour can be done in three hours but of course allow time for sight-seeing, taking pics, refuelling and dining. From Reykjavik your first stop clockwise is Þingvellir where the first 9th century settlers developed an assembly due to its central position. As well as historically important there is outstanding natural beauty with geological spectacles caused by the meeting of tectonic plates. As well as this attractiveness there is the opportunity for snorkelling and hiking.
Stokkur is the next part of your Golden Circle tour and blasts water every five or ten minutes of up to forty metres high. Waterproof clothing and a shield for your digicam are essential. Nearby is the Great Geysir but this is now mostly inactive. And on to the Gullfoss waterfall for a thrilling connection with Mother Nature conserved for visitors like us to see and feel (the spray will touch your flesh).
So much for geysers but then an essential part of your itinerary will be to take in the thermal springs, the result of geothermal activity, like the geysers caused by the tectonic plates colliding. This is yet another way to connect with nature, for example, at the Hrunalaug hot spring near Flúðir, available for a small donation to the local farmer.
There is also Seljavallalaug near the Eyjafjallajökull Volcano; the Reykjadalur Steam Valley, an hour's drive and further hour's hike from Reykjavik; or you may prefer to simply dip your feet in the Kvika Geothermal Footbath. The Lake Mývatn Nature Bath has a convenient cafe and bar on site; Gamla Laugin, aka "The Secret Lagoon," demands a butt naked shower before entering; and there are some wonderfully scenic surroundings for the hot spring at Hveravellir.
The Northern Lights
Finally, between September and April, there is the incredible natural phenomenon of the northern lights, or aurora borealis. The recent Winter Solstice is witness to some twenty hours of darkness which makes the sight even more spectacular. The best spots include the Westfjords and North Iceland; or in South Iceland visit the Jokulsarlon glacier lagoon, near the Vatnajokull glacier.
So this 'land of ice and fire' is a real opportunity to connect with nature and prehistory in a way unimaginable in any other country. And don't forget, before you go to Iceland, book with Indigo for a car to go!
Having worked in the car rental industry for over 15 years, he really knows his stuff. Rob heads up our marketing department and as a keen traveller, always has a new location to talk about. Particularly if there is a golf course nearby.